The Nash Airport Hotel ****


Chemin de la violette 11
CH - 1216 Cointrin
Phone: +41 22 555 57 77 Fax: +41 22 555 59 99
E-mail: contact@nashairporthotel.com
www.nashairporthotel.com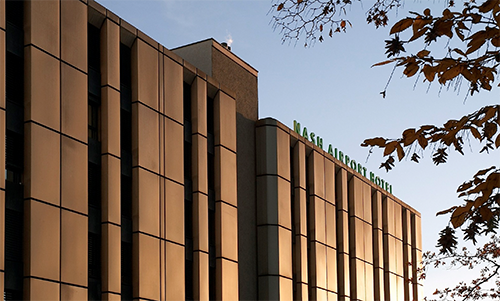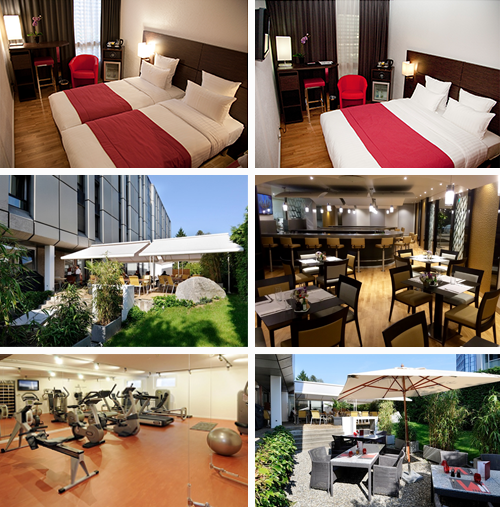 NAVETTES / SHUTTLES

Aéroport -> Hôtel
Athletes and delegations, upon their arrival at the airport are transported to the hotel with the shuttle of the NashAirport hotel. Other shuttles of the meeting organisation are also available at busy times.


The day of the competition
We have 5 minibus that will drive athletes and delegations from the hotel to the track (approx. 15 min. drive) and, after the competition, directly to the airport or train station (please don't forget to bring along your luggage to the track if you leave on Saturday evening and don't leave it at the hotel !).

At the bottom of this page, you can download the list of shuttle schedules we plan to organize.


- -
Les athlètes sont pris en charge à leur arrivée à l'aéroport et peuvent voyager jusqu'à l'hôtel avec les navettes de l'hôtel NashAirport. D'autres navettes du meeting sont aussi à disposition en cas de grande affluence.


Hôtel -> Stade et retour vers l'hôtel ou l'aéroport
Nous disposons de 5 minibus afin d'assurer les transports de l'hôtel et jusqu'au stade et après la compétition, du stade et vers l'hôtel, l'aéroport ou la gare.
En bas de cette page, vous pouvez télécharger la liste des horaires des navettes que nous prévoyons d'organiser.
Réservations
E-mail: contact@nashairporthotel.com
Tél. +41 22 555 57 77
Situation:
L'hôtel jouit d'une situation idéale à proximité de l'aéroport international de Genève, de la gare CFF de Genève-Cointrin, du palais des expositions Geneva Palexpo et du centre-ville :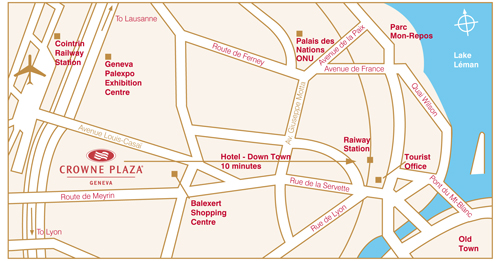 Aéroport / Gare Cointrin: 500 m (Voir horaire d'accès avec les transports publics TPG, en 3 arrêts et 3 minutes, avec la ligne 10)


Stade du Bout-du-Monde: 9.9 km ( Voir plan d'accès interactif en bas de la page ! )


Geneva Palexpo: 500 m


Centre commercial Balexert: 500 m


Centre-ville: 3 km


Nations Unies: 2 km





Agrandir le plan





Depuis l'aéroport,
prendre les transports publics TPG, bus n. 10, jusqu'à l'arrêt "De Joinville, 3ème arrêt. Durée du trajet: 3 minutes, puis marcher quelques dizaines de mètres."



Depuis la Gare de trains de Genève-Cornavin,
prendre le bus n.10 et cliquez ici pour connaître l'itinéraire et les horaires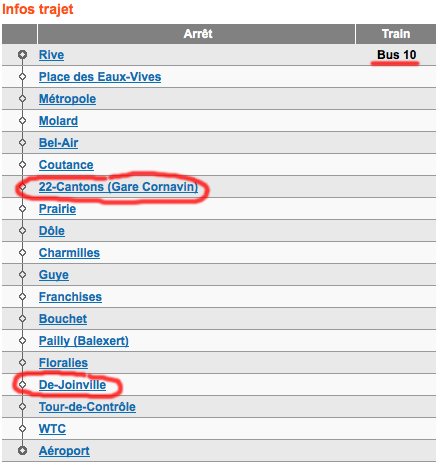 .



































Itinéraire en voiture entre le stade de Champel et le NASH airport Hotel Geneva: 9,9 km - environ 16 minutes.
Voir plan d'accès, depuis l'hôtel ci-dessous:


B - NASH AIRPORT Hotel ****
CH - 1216 Cointrin
1. Prendre la direction sud-est sur Avenue Louis Casaï vers De Joinville 58 m
2. Tourner à gauche sur Chemin de Joinville 24 m
3. Tourner à droite sur Avenue Louis Casaï 0,7 km
4. Tourner à droite sur Avenue du Pailly 0,9 km
5. Continuer sur Viaduc de l'Ecu 0,6 km
6. Tourner légèrement à droite sur Avenue de l'Ain 0,4 km
7. Continuer sur Route du Pont Butin 2,7 km
8. Continuer sur Avenue des Communes Réunies 1,2 km
9. Prendre la bretelle 0,1 km
10. Rester sur la file de droite et suivre France/A1a/Lausanne/Perly/E25/E62/A1 34 m
11. Au rond-point, prendre la 4e sortie sur Route 1/Route de Saint-Julien. Continuer de suivre Route de Saint-Julien 1,3 km
12. Tourner à droite sur Route du Val d'Arve 1,4 km
13. Tourner à gauche sur Route de Veyrier 0,1 km
14. Tourner à droite sur Route de Vessy. Votre destination se trouvera sur la droite 0,4 km
A - Stade Champel "Bout-du-Monde"
route de Vessy 14
CH - 1206 Genève

---
Hotel Ibis Airport ***
Ask for the application of the fare "VITASPORT":
Website: Hotel Ibis aéroport .
Please indicate that you are participating in the athletics meeting of Geneva.
Booking


By mail: h3535@accor.com


by phone: +41 22 710 95 00;


by fax: +41 22 710 95 95.
Hotel Ibis Aéroport
10 Chemin de la Violette
1216 Genève - Cointrin
Switzerland
Access: GPS :N 46° 13' 38.26'' E 6° 6' 22.20''
Contact Person: Miss Sandrine Agassi
Costs:


Bedroom (2 beds or a single big bed) is at CHF 89.-,


+ Breakfast at 15 CHF.- per person and


+ Daily tax is CHF 2.80


(to be added 8% VAT).
---
Hotel RAMADA ENCORE ***sup.
Ask for the application of special fare ofr AtletiCAGenève
Website: www.ramada-encore-geneve.ch.
Booking


By mail: reservation@encoregeneve.ch


by phone: 41 22 306 5007
Contact Person: Miss Marina Sambet
Hotel Ramada Encore Geneva
10-12 Route des Jeunes
CH - 1227 Geneva
Biggest 3 stars hotel in Geneva. Hotel full renovated in 2013.
Located in the shopping center "La Praille" and with direct access to the Geneva Football stadium.
Costs:


114 CHF / Single / Breakfast / Wifi included


138 CHF / Double / Breakfast / Wifi included


+ Daily tax is : 3.30 CHF / per person


+ Car Park : 10 CHF / day / per vehicle


Bus park: free, in front of the hotel
Les participants ont la possibilité de réserver directement auprès de notre service réservations, en précisant qu'ils réservent dans le cadre du meeting AtletiCAGenève : reservation@encoregeneve.ch ou +41 22 306 5007