03. Hotel & Access
HOTEL METROPOLE ***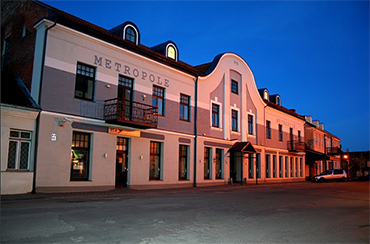 www.hotel-metropole.lv
Baznīcas iela 11
LV-3301 Kuldīga
Latvia
- Tel: +37 163350588
- Fax: +371 63350599
- E-mail: reservations@hotel-metropole.lv
In the very center of Kuldīga old town you will find a lovely hotel, restaurant and bar Kuldīgas Metropole. This building has served as a hotel-restaurant since 1910. It was renovated in 2006, keeping its ancient facade.
Kuldīgas Metropole has reawaken to become the most modern and prestigious hotel-restaurant in the town. We are located just a few steps away from everything the town can offer. In the backyard of the hotel there is a small river of Alekšupīte, which flows throughout the old town and makes the ancient urban environment unique, called the Venice of Latvia. A few minutes walk is the old and unique bridge across the river Venta, from which appears a marvellous sight on Ventas rumba - the widest waterfall in Europe - 240m. In the old town there are ancient historical buildings with red tiling as well as narrow and romantic streets. If you want to find out more about our lovely town, just nearby is the Tourism information center where you will certainly find ideas for your staying in Kuldīga.
The hotel Kuldīgas Metropole offers 14 comfortable rooms, kept in classical style - 6 one-storey, 7 two-storey (with spiral staircase) and a LUX.

---
HOTEL JEKABA SETA "Jēkaba sēta"

www.jekabaseta.lv
Viesnīca & Restorāns Jēkaba sēta
Liepājas iela 36
Kuldīgas pilsēta
LV-3301 Kuldīga
Latvia
- Tel: +371 28631122
- E-mail: info@jekabaseta.lv
Jēkaba sēta is located in the heart of Kuldīga, right by the main pedestrian street. Housed in a historic building, it offers modern amenities such as free WiFi.
Each room comes with a private bathroom. Extras include a desk, bed linen and a fan.
At Jēkaba sēta you will find a garden, a terrace and a bar. Guests are welcome do dine in the on site restaurant.
The property offers free parking.
At a surcharge, guest can relax in the hotel sauna.